IFC is a non-profit  who is just being created. Founded October 15, 2012, it will attempt to "make Love practical."  We teach skills for relationships and emotional management.  We provide outreach services to inmates, homeless, and those who work with them.  We provide classes for couples, parents, individuals, and organizations.  We mix science and compassion, caring and quality mental health education and counseling. We provide training for volunteers, para-professionnals, professionals, and professionals-to-be.  We provide materials and consulting for the skills of love.  Based on the work of Drs. Bernard and Louise Guerney, We provide education model interventions for Central Kentucky and across the US.  Come back soon for more information!
If you have specific questions about IFC, email us at mary@skillswork.org.

About Mary Ortwein
Mary Ortwein, MS, LMFT, is Executive Director of IFC and co-author with Dr. Bernard Guerney of the MML Series of RE materials, including Mastering the Mysteries of Love, Love's Cradle, Ready for Love, Mastering the Mysteries of Stepfamilies, Mastering the Mysteries of Sacramental Love, the Happy Hometown Marriage Education Kit, and Mastering the Magic of Play. A licensed marriage and family therapist, she is also a mother of two grown sons and their families. Mary has a BA from Transylvania University in elementary education and a MS from the University of Kentucky in Family Studies. She is a clinical member of the American Association for Marriage and Family Therapy (AAMFT) and a Marriage and Family Therapy supervisor in training. Before coming to IFC, Mary taught elementary school seven years, was a full-time wife and mother when her children were small, directed several federal pregnancy, homeless, and VISTA programs, founded SIMON House, was Family Ministry Coordinator for the Catholic Diocese of Lexington, and worked as an in-home therapist, a case manager, and supervisor of mentor and in-home programs for the IMPACT and IMPACT Plus programs in Lexington, Kentucky. [In other words, Mary's been around a long time!]
For additional information on publications or other matters, query at mary@skillswork.org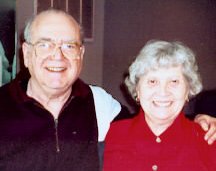 About Bernard and Louise Guerney
Bernard Guerney, Jr., Ph.D., founder of IDEALS and the National Institute of Relationship Enhancement®, is internationally recognized as one of the most prominent and innovative practitioners of marital and family therapy. His methods have been developed and refined in over thirty five years of practicing, teaching and supervising individual, marital, group, and family therapy. His presentations and workshops have elicited high praise and great enthusiasm on four continents. For their work in developing Relationship Enhancement® therapy and enrichment methods, Dr. Guerney and his wife, Dr. Louise Guerney, have won several national awards. He is a fellow in five APA divisions, a Diplomate in Clinical Psychology, Counseling and Psychotherapy, Behavioral Medicine, and Marital/Family Therapy, a certified group therapist, and an AAMFT-Approved Supervisor. Currently Dr. Guerney is Director of NIRE, Adjunct Professor of Psychology at the University of Maryland, and Professor Emeritus of Family Studies and of Counseling Psychology at Pennsylvania State University, where he founded and directed its Individual and Family Consultation Center for 25 years. Alone or with others he has produced over 80 articles and chapters, four books, and numerous manuals, training tapes, and films in the areas of individual, marital, group, and family therapy. He has served on the editorial board of many marital and family therapy journals. He was one Salvador Minuchin's co-authors of the family therapy classic Families of the Slums. Dr. Guerney's own book, Relationship Enhancement: Skill Training Programs for Therapy, Problem Prevention, and Enrichment has been called, by Dr. Douglas Sprenkle, "a seminal and potentially revolutionary work … perhaps the best … integration of theory, research, and practice in the family intervention field."
Louise Guerney, Ph.D., Director of Play and Filial Family Training at The National Institute of Relationship Enhancement® , is internationally recognized as one of the most prominent and innovative practitioners of child-centered play therapy. A licensed Clinical Psychologist, Registered Play Therapist-Supervisor, and a founding Board Member of the Association for Play Therapy, Dr. Guerney is known, together with her husband, Dr. Bernard Guerney, Jr., as the creator of Filial Family Therapy, a unique family therapy model that teaches parents how to become the primary therapeutic agents for their children through the medium of play therapy. As a Professor (now Emerita) of Human Development and Counseling Psychology at Penn State University, as a workshop instructor in scores of workshops conducted on four continents, and now as Director of Play Therapy and Filial Therapy Training at NIRE, Dr. Guerney has trained and supervised many hundreds of professionals. Independently and collaboratively, she has produced scores of articles and chapters on child and family therapy, two books, and training videotapes for therapists. Active in the professional community, she is one of the creators of PhoneFriend, a nationwide network of "warmlines" serving latchkey children, and has served on the Board of APA's Division of Children, Youth and Family Services. She has developed a number of parent skills-training programs, including The Foster Parent Training Program in cooperation with the Pennsylvania Department of Public Welfare. She serves on the Editorial Boards of several child- and family-oriented therapy journals, including The International Journal of Play Therapy. Dr. Guerney has won several national awards from state and national organizations for her contributions to child/family enrichment and therapy, including the 1988 Marriage and Family Therapy Award for Contributions to the Field of Marriage and Family Therapy, awarded by the Family Therapy Section of the National Conference of Family Relations, and together with her husband, the 1983 Mace Medal for Contributions to Marital Enrichment, awarded by the Association for Couple and Marital Enrichment.