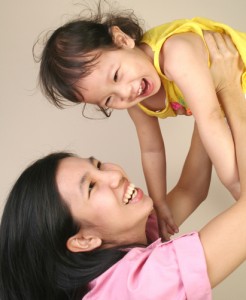 Working with Parents
IDEALS offers two Working with Parents workshops.  Both are based on the Parenting Skills Program developed by Louise Guerney.  This program is available in both English and Spanish.
These workshops for therapists, parent educators, child care workers, and teachers teach you how to teach parents practical parenting skills–as part of therapy, as a result of a parent-staff conference, or in a class setting.
The first workshop focuses on helping parents develop Nurturing behaviors.  These include Realistic Expectations, Empathy, and effective Parent Messages.
The second workshop focuses on helping parents develop Structuring  Behaviors.  These include "Heading Them off at the Pass," setting limits, imposing consequences, and focusing on discipline, rather than punishment.
These workshops will be offered in the fall of 2011.  Specific dates will be posted by August, 2011
IDEALS also offers Intern and Extern experiences in working with parents through our classes at the Fayette County Detention Center and in Lexington.  For information about Intern and Extern opportunities, contact Mary Ortwein at mary@skillswork.org or 859-806-448
Helping Parents Nurture
Help parents learn how to use skills to nurture their children.  These skills include having Realistic Expectations, Empathy, and effective Parent Messages.  During this 6 hr workshop, you will learn strategies to use to teach each of these concepts to parents in a practical way.
Learning Objectives:
At the conclusion of this workshop participants will:
Identify indicators that a parent lacks nurturing skills
Help parents identify what are realistic expectations for their child
Help parents use empathy with their children in play, when a child is upset, and when the parent is upset with the child
Help parents use effective expression to get cooperation from their children.
6 hr Agenda
Morning
Introduction:  Parents without the Warm and Fuzzy
Behind the Behaviors:  Brief review of attachment, brain chemistry, and learned skills as they apply to parenting behaviors
Teaching Parents to Have Realistic Expectations
Afternoon
Teaching Parents to Listen with Empathy
Informal play and conversation
When child is upset
When parent is upset with child
Teaching Parents to Express for Cooperation
When asking a child to do ordinary tasks
When child is upset
When parent is upset with Child
Using what you've learned
Helping Parents Structure
Help Parents learn to discipline, rather than punish.  What's the difference?  Discipline focuses on helping children self-monitor in age appropriate ways.  It teaches children to be good, rather than punishes them for being bad.  Strategies taught in the course include "Heading 'em off at the Pass–Prevention by Thinking Ahead; Setting Limits; Imposing Consequences; and Thinking about Discipline.
Objectives:
At the end of this workshop participants will be able to:
Teach parents how to Plan Ahead to Prevent Problems
Teach parents how to set limits
Teach parents how to impose consequences when limits are broken
Teach parents to see their role as helping children self-regulate
6 CE Agenda:
Morning
Setting the Stage:  Children Who Self-Monitor Have ALL the Advantages
Structuring to Prevent Problems:  Planning Ahead for What MIGHT Happen
Setting Limits
Afternoon
Setting Limits, cont.
Imposing Appropriate Consequences
Particularly Troublesome Situations:
Working with Parents Who Are Strict Today, Lax Tomorrow
Working with Parents Who Don't Follow Through
Working beyond Patterns of Abuse