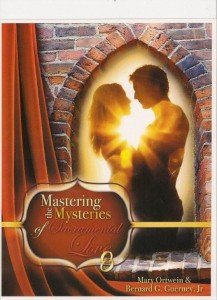 Mastering the Mysteries of Sacramental Love:  A Relationship Enhancement Program for Catholic Couples is now available.  MMSL combines Relationship Enhancement Skills in the MML format with Catholic teaching on sacramental marriage.
Mastering the Mysteries of Sacramental Love: A Relationship Enhancement® Program for Catholic Couples is an enrichment program for couples who have been married for a year or more and who have already been catechized on marriage as sacrament.  It reviews Catholic teaching on marriage and helps couples focus on its practical applications as they live as the "domestic church."
The twenty hour program teaches couples the "how to" of living out their sacramental bond. It includes eight modules which integrate Catholic teaching with practice of skills which fosters self-giving love. Participants practice each concept and skill in class and are encouraged to carry over the concepts into practical applications at home.  The program can be taught in its entirety or a module can be taught independently.  It can be presented in a week-end or a weekly evening format.
Catholic teaching concepts are taken from the Catholic catechism. They are joined with readings from the Gospel of John. Modules include
Perspectives (John 1:35-51)  Love is the fundamental and innate vocation of every human being.  Love is seeking the good of the other. Couples learn Empathy Skill, remember their wedding, and consider how Jesus is a part of their marriage.
When I think of us as a couple… (John 2: 1-12) Couples learn Expression and Discussion Skills and discuss the complementarity of their relationship. Man and woman were created for each other.  In the sacrament of marriage a man and a woman become instruments of grace to each other.
Putting Skills to Work (John 4: 5-26) Conjugal love involves a totality of intimacy—body, emotions, thoughts, and will. How does Church teaching foster intimacy?  How can a deepened dialogue lead to solutions to problems that come from a deep place of love?
Heights and Storms (John 6: 1-21) Couples learn how to manage stress and conflict and continue to develop self-giving love and behaviors that foster deep intimacy.
To Whom Shall We Go? (John 6, continued) Church teaching on marriage is often counter-cultural, yet it safeguards couples and families.  Couples review Church teaching on marriage and consider how it has sheltered them.  They add Coaching Skill as they continue to use dialogue skills to enhance intimacy and solve problems.
Marriage as a School of Virtue (John 1: 1-17) As couples care for each other and their children, Christ is the source of their growing capacity to love.  Their union is made clear in the equal personal dignity given by the couple to each other and the moral, spiritual, and supernatural life parents hand on to their children. Couples learn Self-Change and Helping Others Change skills while considering how they are growing in their capacity for self-giving love.
Love for Breakfast (John 21: 1-17) Couples sin when they hurt each other, and they show God's mercy when they forgive each other.  Forgiveness is a part of Christian and married life. Couples learn the skill of forgiveness and examine how struggles around forgiveness have impacted their family life.
From Love, In Love, To Love (John 15: 1-17) "Love one another" within a couple extends beyond the couple relationship to children, family, parish, and world.
Written text for each topic ties Catholic teaching with practical applications and skill steps.  In-class learning activities combine lectures, group discussions, experiential activities, couple dialogues, and at-home follow-ups.
The Relationship Enhancement® skills are from research-validated interpersonal science. When tied to Catholic teaching, they give couples needed tools to live their faith.  These skills include:
Empathy Skill—how to see things from each other's perspective and show understanding for each other's feelings.
Expression Skill—how to fully express yourself in ways that foster cooperation and compassion.
Discussion Skill—how to talk an issue through, sharing thoughts, feelings, concerns, and desires at ever deepening levels to a point of shared vulnerability, so compassion and problem solving are easier.
Problem Solving Skill—how to solve problems by the Golden Rule—so each person's core concerns are included.
Self-Change Skill—how to use what we know of behavior modification to succeed at following through on promised change.
Helping Others Change Skill—how to change nagging or criticism to support for another's efforts to change.
Coaching Skill—how to hold each other accountable to maintain respect during conflict and in everyday interactions.
Conflict Management Skill—how to manage interactions when spontaneous conflict happens so respect is maintained and conflict is resolved.
Forgiveness Skill–how to let go of hurts and resentments, replacing them with commitments to caring actions and attitudes.
Generalization Skill—how to become a more compassionate person by practicing skills in everyday interactions at home, work, and in the community.
Maintenance Skill—how to make and take time to nurture your couple relationship on a regular basis.
Additional Information from:  Mary Ortwein at IDEALS, 859-806-4484 or mary@skillswork.org Website description of the program at www.skillswork.org
Mastering the Mysteries of Sacramental Love $12 single copy, $9 per copy for 20, $8 each for 100
Features of Mastering the Mysteries of Sacramental Love:
Each skill is taught in the context of Jesus words, "Love one another."

Teaches skills for  the emotional intimacy of Theology of the Body

Uses the simple, fun presentation of Relationship Enhancement® in MML

Lots of practice!

Couples talk through three issues during class

Inviting Jesus In provides practical ways to use skills as a spiritual practice

Evidence based-40 years, 27 formal research studies of the consistent effectiveness of the Relationship Enhancement Program

Video, practice materials, Leader's Guides, Facilitator or Mentor Couple training available.  MML materials available in Spanish and Korean.

An evidence-based, skills training program by a Catholic author

Written to be taught by volunteer lay couples

Presented in a style that is comfortable to non-Catholic spouses

Applicable to couples across the lifespan
TRAINING:  Training is available at special prices to Diocese who want to implement Mastering the Mysteries of Sacramental Love.  Contact
Mary Ortwein at 859-806-4484 or 502-227-0055   mary@skillswork.org