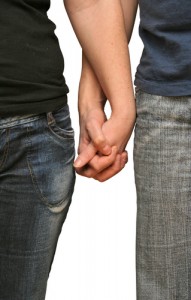 The MML curriculum at present consists of 6 programs in simple language that teach Bernard Guerney's Relationship Enhancement skills.
These 6 programs are:
Mastering the Mysteries of Love RE for Couples
Love's Cradle RE
Ready for Love RE
Relationship Enhancement for Refugees and Immigrants
Mastering the Mysteries of Sacramental Love for Couples
Mastering the Mysteries of Step-families
All four programs teach the 11 RE skills in simple language and fun to do activities.
Mastering the Mysteries of Love RE for Couples is a 16 hour program for couples at any stage of development.  During the program couples learn the 11 RE skills, build affection habits, and solve 3 problems.  The 11 skills are:  Showing Understanding, Expression, Discussion, Coaching, Conflict Management, Problem Solving, Self-Change, Helping Others Change, Forgiveness, Generalization, and Maintenance.  Program combines experiential and skills training methods.  Training is required to teach it (see Training section), but either lay volunteers or professionals can teach it.  A one-day add-on training for therapists teaches additional strategies from RE therapy to equip therapists to use it in therapy situations.
Love's Cradle RE is the program that started the MML series. In 2004 IDEALS contracted with Mathematica Policy Research to develop a version of the Relationship Enhancement® Program that would match the needs and characteristics of couples identified in the Fragile Families research.  From this contract the Love's Cradle Program developed. It is now being used as part of ACF's Building Strong Families marriage initiative in Houston and San Angelo, Texas.  It combines  training in RE skills with discussion of issues common to unmarried parents with an infant or young children.  Besides RE it includes modules on Trust, Money, Marriage, and Complex Family Relationships.  For more information, see the Love's Cradle section.
Ready for Love RE is a 16 hour program for singles and solos.  It teaches the 11 RE skills and provides experiential learning activities around qualities of good relationships, boundaries, the biology of love, meanings of commitment and marriage, and creating change in relationships.  It is appropriate for singles age 18 + and for those who are attending a marriage education program alone.
Relationship Enhancement for Refugees and Immigrants is three 8-hour curricula for new arrivals in the US.  It focuses on maintaining strong family ties, understanding each other, managing conflict, and solving problems.  Program materials are in simple English and are produced by the US Committee for Refugees and Immigrants.  A third part of the program teaches problem solving around money issues.
Mastering the Mysteries of Sacramental Love is 20 hour program that combined RE skills with Catholic teaching on marriage and couple spirituality.  Organized in eight 2.5 hour modules, the focus of Sacramental Love is marriage education for married couples.  One or all eight modules may be taught.
Mastering the Mysteries of Step-families is a 20 hour program by Nancy Landrum which combines the 11 RE skills in MML format with information about what makes a successful stepfamily.  The program includes parallel tracks that target 10 common stepfamily issues with the 11 RE skills.  The step-family specific materials in this program are also available separate from the RE Skills in an eight hour format, In Step, by Nancy Landrum.